Preaching Without Anti-Judaism
New York: Paulist Press, 2008.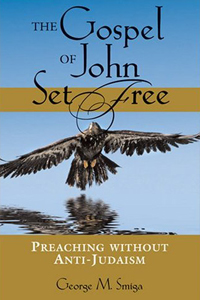 Christians understand that the gospel calls them to treat all people with honesty and justice. Yet there are many passages in the Christian scriptures which, if misunderstood, can support a negative and false picture of Jews and Judaism. This danger is dramatically present in the Gospel of John. Although clearly emphasizing the centrality of love, John's gospel also contains broad and polemical statements which have led many readers to conclude that "the Jews" were united as a people in their opposition to Jesus and primarily responsible for his death.
This book is meant to serve preachers, catechists, and students of the Bible who wish to understand the difficult passages of this gospel in a way which is free from inaccuracy and prejudice. Beginning with a survey of the characteristics of the gospel, it offers a discussion of all passages from the Roman Catholic Lectionary for Sundays and Major Feasts which draw from the Gospel of John and contain the potential to misrepresent or denigrate Judaism. Utilizing the official translation of the Catholic Lectionary, it leads the reader through complex historical and linguistic issues so that those who use these texts can proclaim them in conformity to Church teaching and God's love for the Jewish people.