Angels in the Bible
Little Rock Scripture Study
Collegeville: Liturgical Press, 2021
The Bible is full of passages about angels who are sent to accomplish God's will. Angels speak for God, direct the course of nations, and protect God's people. They worship God and deliver God's judgment. In Angels in the Bible, I examine some of the Bible's most fascinating passages about angels, exploring their ministry on God's behalf and drawing insights for our own spiritual lives.
Because angels are mediators of God's presence and action, studying angels is studying God.
I am very pleased to have received this endorsement from Donald Senior, the president emeritus of Catholic Theological Union: "Few biblical topics are more fascinating for Christians than the traditional belief in angels.  Skilled as both a recognized biblical scholar and a thoughtful pastor, George Smiga takes the reader on a marvelous tour of the many roles angels play in the Bible, a range reflecting the dimensions of God's own abiding presence in human life.  Set in the helpful format of a Little Rock Scripture Study, this is truly an attractive and fully accessible resource."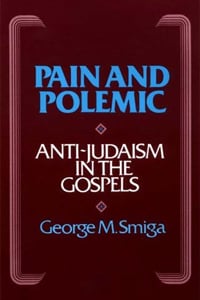 Pain and Polemic:
Anti-Judaism in the Gospels.
New York: Paulist Press, 1992.
Christians who cherish a gospel of peace, reconciliation, and love may be shocked to realize how frequently the four gospels seem to attack Jews and Judaism in sentiments filled with violence, depreciation, and even hatred. Many who believe in Christ are unaware of the disturbing and polemical dimension of the inspired word which they revere. It is only by facing those aspects of the scriptures which carry the potential for prejudice and violence that we can free ourselves and our tradition to proclaim truly our scriptures as the Word of God. This book is an attempt to face such a challenge.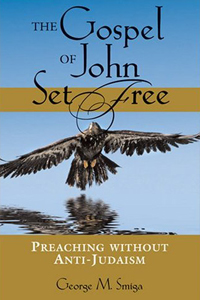 The Gospel of John Set Free:
Preaching Without Anti-Judaism
New York: Paulist Press, 2008.
Christians understand that the gospel calls them to treat all people with honesty and justice. Yet there are many passages in the Christian scriptures which, if misunderstood, can support a negative and false picture of Jews and Judaism. This danger is dramatically present in the Gospel of John. Although clearly emphasizing the centrality of love, John's gospel also contains broad and polemical statements which have led many readers to conclude that "the Jews" were united as a people in their opposition to Jesus and primarily responsible for his death.
This book is meant to serve preachers, catechists, and students of the Bible who wish to understand the difficult passages of this gospel in a way which is free from inaccuracy and prejudice. Beginning with a survey of the characteristics of the gospel, it offers a discussion of all passages from the Roman Catholic Lectionary for Sundays and Major Feasts which draw from the Gospel of John and contain the potential to misrepresent or denigrate Judaism. Utilizing the official translation of the Catholic Lectionary, it leads the reader through complex historical and linguistic issues so that those who use these texts can proclaim them in conformity to Church teaching and God's love for the Jewish people.
---
BOOK COLLECTIONS
I have contributed articles to the following collections:
---
 

Separating the True from the Historical: A Catholic Approach to the Passion Narratives

This article is found in Pondering the Passion, Philip A. Cunningham (ed.), Rowman & Littlefield, 2005, pp. 55-64.

 

The Good News of Mel Gibson's Passion

This article is found in Mel Gibson's Bible, Timothy Beal (ed.) University of Chicago Press, 2006, pp. 21-28.