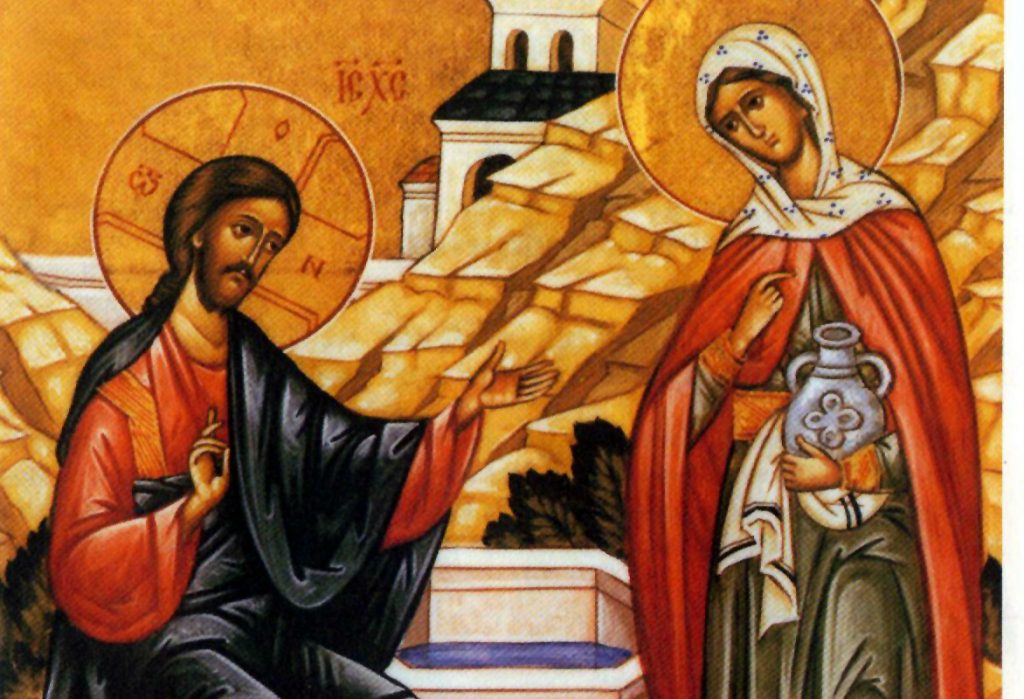 The Third Sunday of Lent A: John 4: 5-42
The Samaritan woman who meets Jesus at the well in today's gospel has no idea of who he is. From her perspective he is merely a wondering Jew looking for a drink. So when Jesus suggests to her that he can give her living water, she comes up with the most preposterous comparison she can think of. She says, "Surely you are not greater than our father, Jacob, who gave us this cistern and who drank from it himself with his children and his flocks." "There," she thought, "that certainly put him in his place." He couldn't presume to be greater than the patriarch, Jacob, the father of the twelve tribes of Israel. But the irony of this story is that Jesus is greater, greater than Jacob, greater than anyone the Samaritan woman could imagine.
That is something we should remember as we face this coronavirus pandemic. As you know this is the most serious health problem that we have had to face as a society in our lifetimes. Public meetings have been canceled. We still gather for Mass, but it is likely that by next weekend we will not. We are just beginning to face this crisis. It will go on for months.
As we do face what lies ahead, it is important that we do so from a perspective of faith. The coronavirus has no known cure. In that sense it is greater than us. It is greater than our leaders, greater than our medical professionals. But is not greater than Jesus. God continues to be active and present in our world, and as always God stands with us to give us the strength and wisdom for whatever we need to face. Now the perspective of faith does not make us immune from this virus, and it certainly does not dispense us from following the directives given to us by our leaders. As a matter of fact, as a people of faith we should be doubly attentive to see that we wash our hands regularly, avoid public gatherings. In doing so we are showing charity to others. We should also think of those isolated by this crisis such as a shut-in in our neighborhood who might need food or medicine. We should think of those who are frightened by the prospects to come and be in contact with them by phone to give support.
And, of course, we should pray. We should pray for those who have the virus, that others would not contract the virus, for our political leaders, and for our health care professionals. And I would suggest to you a particular way we should pray. You know that those in the health community are anxious to see that, when we wash our hands, we wash for 20 seconds. So the advice you often hear that you should sing Happy Birthday as you wash your hands and not stop washing until the song is done. I suggest you replace Happy Birthday with the Lord's Prayer. It also lasts 20 seconds so it will accomplish the same cleansing effect. But it also will be a way to pray for all those affected by this crisis.
You and I face a crisis of historic proportions, but God is greater than the coronavirus. So let us draw on God's wisdom and God's strength to support one another until this virus is defeated.